Sunday, August 19, 2007 8:28 pm
Curtain Call
Posted by: Kaite
Wait, wait! I have one more thing! I'm not trying to have the last word. Frank had all the best last words (and I'm jealous, Frank. YOU got to see Keir).
But I just read this intriguing little biblio-tidbit while in the car to Joplin, MO today. It's from Service and Style: How the American Department Store Fashioned the Middle Class by Jan Whitaker. In 1904 Wanamaker's Philadelphia store was the biggest bookshop in the world. Department stores had been taking a critical drubbing for only selling bestsellers, undercutting the competition, and selling under the list price. They also received praise for always paying their book suppliers on time, exposing a wide readership to books and creating public interest in living authors by using promotions such as book fairs and teas.
The most powerful person in retail was one Marcella Burns Hahner, a book department manager for Marshall Fields. After ten years with the store, her department was deemed the largest retail book business in the world and she "held the power to make a book a best seller." Take that, Oprah and Wal-Mart!
"Plus ça change plus ça le même chose."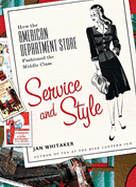 Comments
comments