Friday, November 7, 2008 12:17 pm
Quickly: Boiled Hippos, Crichton the Noodge, Obama the Poet, Six-Word Memoirs
Posted by: Keir Graff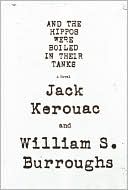 In The Telegraph ("The young generation"), John Walsh offers the story behind the finally-published collaboration between Jack Kerouac and William S. Burroughs, And the Hippos Were Boiled in Their Tanks. You can read my review, but I'm inclined to agree with Walsh that it's more "a fascinating snapshot from a lost era" than a lost literary masterpiece.
You can imagine American publishers in 1945 inspecting the junkie references, the F-words, the gay context ("This Phillip is the kind of boy literary fags write sonnets to, which start out, 'O raven-haired Grecian lad…'") and the hallucinogenic moments – like when two of the characters chew broken glass in Chapter One – and deciding it was too much trouble. None took it on.
In memoriam: Slate reprints Bryan Curtis' 2004 assessment of Michael Crichton, in which the former calls the latter "a political pamphleteer, a right-wing noodge" ("Michael Critchton, RIP"):
Who dinosaured Michael Crichton? Was it a comet or just the responsibility of being America's prophet of doom? In his new book, State of Fear, Crichton once again ascends to the pulpit to warn us of an impending horror. Like the diabolical Japanese businessmen in Rising Sun and the corporate vixen in Disclosure, these new shadowy forces, Crichton says, lurk among us, poised to wreak havoc. They're among America's fiercest enemies. They're … environmentalists.
And, as Galleycat reminds us, Barack Obama is not merely the president-elect, he's also a poet ("The Poetry of Barack Obama," New York Times):
Pop switches channels, takes another
Shot of Seagrams, neat, and asks
What to do with me, a green young man
Who fails to consider the
Flim and flam of the world, since
Things have been easy for me;
And, in the Philadelphia Inquirer, Carlin Romano excerpts Not Quite What I Was Planning, a collection of six-word memoirs ("Whole lives summed up wittily and succinctly"). I tried to do this, but it's harder than it looks. This one makes me think of David Carr (Night of the Gun), although I have no idea where he went to college:
"After Harvard, had baby with crackhead."
Comments
comments